The patterning on this Kawakawa pounamu is beautiful, the grain of the pounamu really stands out as it has been cut across the layers that make it up.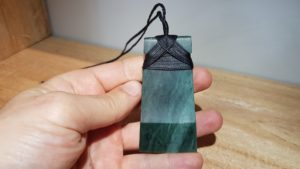 I made this toki for a good friend of mine. It is really nice to be able to make and gift an item that holds significant value on its own and to add to that value by crafting it and gifting it myself. He actually wore it at a powhiri in his honor just yesterday.
The functional aspects of a toki are represented here in the sharp cutting edge at the bottom of the toki, the curved back is an important part of the toki for chipping away wood. I really like pendants that are carved as a whole not just for the 2D representation from the front.  I feel that a fully 3D carving has a stronger wairua and sense of what it is.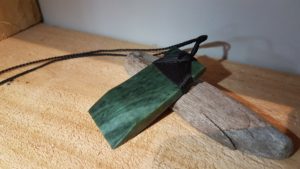 The toki represents strength, courage, and authority.  It is appropriate to be worn everyday to bolster these things for a person, and even more so during occasions when these attributes should be amplified.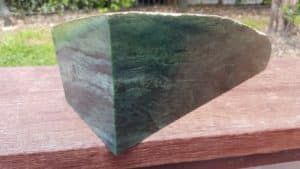 As I said this was made for a good friend of mine, I have worked with him for the last six years. The block (above) that is was carved from lived in the staff room for several weeks soaking up the atmosphere there and this adds value to the place that connects me and him.  You can see the layers of the pounamu in the block that have come through in the pendant as well.  This stone was sourced from the Kaniere Stream, which is a tributary of the Hokitika River.