Family sets are one of my favorite things to make, sharing pendants that all come from the same source holds a lot of mana. A good friend of mine asked me to make this set for him and his family.  It is made from a gorgeous pounamu found in the Kaniere stream area.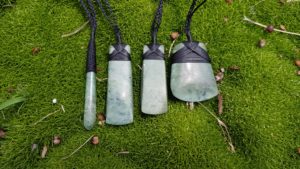 Making a set for a family or people that want a strong connection through a natural material like this is wonderful.  This stone was formed together under enormous conditions and then all these pieces have been connected next to each other for ages, and I do not use that word lightly.  Only to be separated and fashioned into these taonga for each member of the family.  It signifies a strong bond.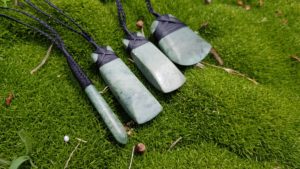 A toki can come in many shapes and sizes. The Toki is a symbol of courage and strength. Pre-European Maori used the Toki as a tool. It had two uses either carved into a chunky blade and lashed to a wooden handle or held in the hand, it was used to cut down trees and carve out waka among other things. Secondly it was carved into a finer blade and lashed to an ornate wooden handle. These "Toki Poutangata" were wielded by strong chiefs in times of ceremony as a symbol of power, wisdom, and authority. As a pounamu pendant these days the Toki is a symbol of courage and strength.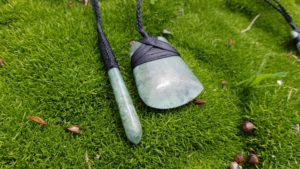 The two pieces about are for the Mother and Father.  The Kuru is regarded as a touch stone for use in meditation and to represent a connection with the Whenua – Land. Long slender drop shaped Kuru are symbols of knowledge, confidence and independence. Traditionally they were made from slender off cuts from making tools. Pre-European Maori wore Kuru in several forms as ornamental earrings as a symbol of status and wealth.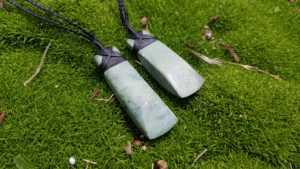 These two toki are for their two young boys.